6328 Silicone Acrylic Emulsion (water coated water)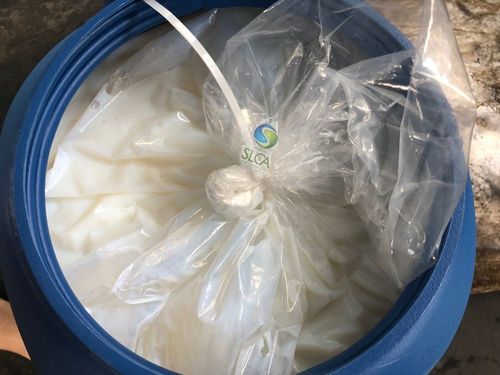 General Character:
Silicone acrylic emulsion, latex particles have unique interpenetrating network structure, anti sticky, high hardness, excellent water resistance, with the protection glue reaction viscosity rise quickly, stable storage, good weather resistance.

硅丙乳液,乳液粒子具有独特的互穿网络结构,抗回粘,硬度高,优异的耐水性,与保护胶反应粘度上升快,储存稳定,耐候性佳。
---
TDS of Grade 6328:
产品

Products

固含量(%)

Solid content

粘度

Viscosity(mPa.s)

PH值

MFT

(℃)

Tg

(℃)

APEO

应用领域

Application area

6328

46.0-48.0

800-2000

7.0-9.0

28

25

N

1. 多彩包覆光油 Colorful coating of gloss oil

2. 真石漆 Stone paint

3. 外墙漆 Exterior paint
---
---
Special character of 6328: Organic Silicon modification, with nanoscale particle size, using 6328 as a continuous phase, after reaction with the protective adhesive, the viscosity increases rapidly, rheological performance is highly adjustable, forming a stable gel color point with natural shape.
---
Application: It can be used for producing colorful water package water coated light oil emulsion.

---
Mill Introduction: Our mill is focusing on research and development of waterborne acrylic emulsion and additives production and the application of industrial and civil coating since 1980's. We cooperated with the east China university of science and technology, and has a first-class technical team of senior engineer university professors. The products have won the scientific and technological achievements of jiangsu province and have been awarded multiple national patents. After introduced advanced production technology and equipment, our mill has set up the leading DCS control emulsion production line, which annual capacity is 80,000 tons. Our mill is currently one of the largest manufacture for waterborne acrylic emulsion in China. The products are selling to Africa and Asia.
---
Production Capacity: 80,000mts / year
---
---
Finial Products using photoes:

---
Explain of the finial product using:

After using our Silicone acrylic emulsion, you can produce kinds of Water-coated multi-color paint.
This paint is a novel high-grade exterior wall decorative paint after fluoride paint and genuine stone paint. Multi-color paint combines the advantages of fluoride paint and genuine stone paint. Its simulation is high, weather resistance is good, and the decorative effect is like marble and granite.
---
Inquire: If you are interested in the above product, pls don't mind to send your kind inquire to shali@shalichem.com

We will reply you ASAP!