6408 Modified Acrylic Emulsion (water coated water)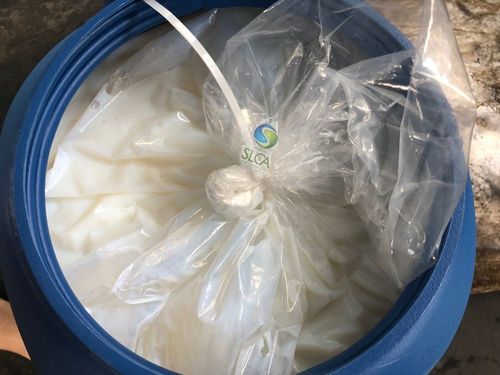 General Character:
Elastic emulsion, using double interlocking core shell technology, made of special functional materials, has a mild reaction with the protective adhesive, no color at the color point, and stable storage performance. Excellent low temperature resistance, high temperature performance and excellent durability.

弹性乳液,采用双交联核壳技术,用特殊功能材料制成,与保护胶反应温和,彩点不渗色,储存性能稳定。具有优异的耐低温、高温性能和极佳的持久延伸率。
---
TDS of Grade 6408:
产品

Products

固含量(%)

Solid content

粘度

Viscosity(mPa.s)

PH值

MFT

(℃)

Tg

(℃)

APEO

应用领域

Application area

6408

51.0-53.0

500-1500

7.0-9.0

0

-3

N

1. 多彩基础漆 Colorful basic paint

2. 弹性乳胶漆 Elastic Latex paint

3. 弹性拉花 Elastic drawing
---
---
Special character of 6408:
Inorganic hybrid modified acrylic emulsion has excellent elasticity, so that the color point plasticity is strong, the finished film has a certain hardness. The color points manufactured can be stably dispersed in continuous phase emulsion to achieve the effect of "can be break, but can't be scattered".
无机杂化改性丙烯酸乳液,具有优异的弹性,使色点的可塑性强,成膜后具有一定的硬度。制造的彩点能稳定分散于连续相乳液中, 达到"可破不可散"的效果。
---
Application: It can be used for producing Colorful water coated basic paint emulsion.
---
Test Photo for Basic paint color point, our 6408 is with impermeable color:
---
VISCOSITY TESTING:
---
---
Finial Products using photoes:
---
Explain of the finial product using:

After using our Silicone acrylic emulsion, you can produce kinds of Water-coated multi-color paint.
This paint is a novel high-grade exterior wall decorative paint after fluoride paint and genuine stone paint. Multi-color paint combines the advantages of fluoride paint and genuine stone paint. Its simulation is high, weather resistance is good, and the decorative effect is like marble and granite.
---
Inquire: If you are interested in the above product, pls don't mind to send your kind inquire to shali@shalichem.com

We will reply you ASAP!